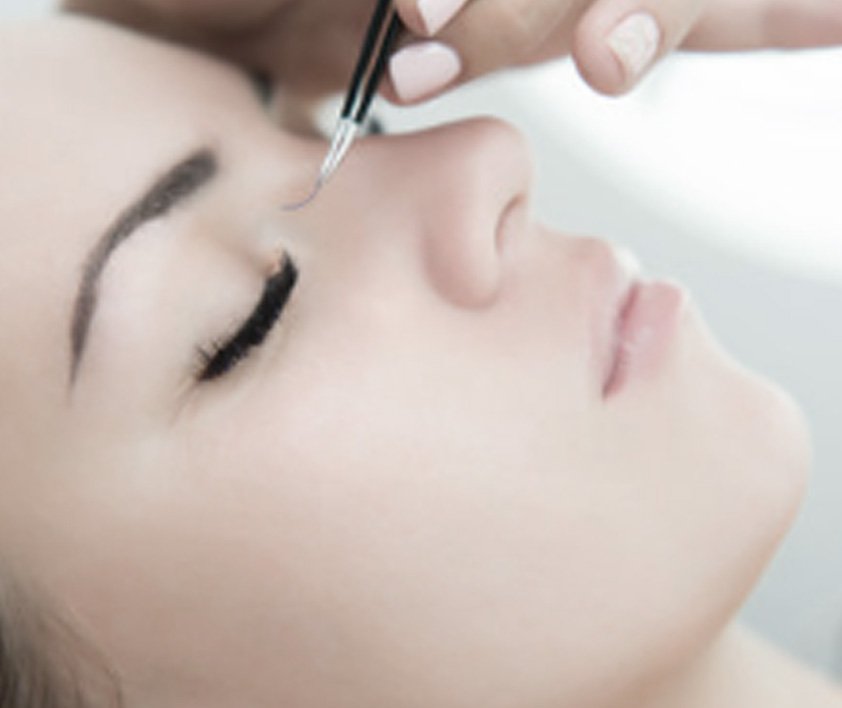 Eyelash Extensions
Eyelash extensions are individual, semi-permanent, water-resistant lashes that are applied to your own existing eyelashes to help them look longer and fuller. Our lash technicians deliver a customized set of lash extensions and have been trained and certified with NovaLash. NovaLash has been shown to be two times as effective as the leading competitor in the following areas: strength, durability, pigmentation, texture, and curl. See our lash FAQs below for more detailed answers to all of your lash questions!
Eyelash Extensions
NATURAL LOOK
Full Set $161 | Fill $61
ELEGANT LOOK
Full Set $201 | Fill $71
LUXURIOUS LOOK
Full Set $236 | Fill $81
*If less than 50% of lashes remain, two fills will be charged.
Eyelash Extensions Frequently asked questions
1. What Are Eyelash Extensions?
The extension process is a luxury treatment where the licensed technician places semi-permanent, synthetic mink lashes on each individual lash with a physician formulated glue. This is not to be confused with strip lashes or cluster lashes that you might have applied during a makeup application. All of our lash technicians are either licensed Cosmetologists or Estheticians and are also highly educated and certified by Novalash. Novalash has been voted the number one eyelash extension brand in the industry. The glue is the most special because it is physician formulated and is known for its safety and durability.
2. What happens during the treatment?
You and your lash technician will consult about the kind of look you want to achieve during your appointment. We can customize every client's needs with the length, thickness and application of the set of lashes.This will also depend on the condition of the client's natural lashes. Your technician is skillfully trained and will be able to assist you in making the right choice. The first time application will take 1 ½ to 2 hours. During that time the client's eyes will be closed and the technician will isolate each individual lash and apply an extension to it. This is a pain free process and many clients fall asleep during the process!
3. How long do the extensions last?
The life of the extensions will depend on home care and lifestyle of the client. If you are physically active or rub your eyes more often, you may need to come in sooner than later! The average time to get a fill will be anywhere between 2-4 weeks. During that time, the technician will remove old extensions that are falling out and replace them with new extensions. This process is only about an hour.
4. What are the advantages of getting eyelash extensions?
Once you get eyelash extensions, you don't have to worry about putting on mascara! What sets us apart from other eyelash extension brands on the market is that Novalash is waterproof and does WELL with oil! You don't have to worry about avoiding oily products or makeup near your eyes. Novalash is designed be durable and withstand any "wear and tear" that may occur.
5. What if I want to take them off?
We offer a removal service to remove the extensions. Remember that our product loves oil so trying to remove them at home with household products will not work! You will need your lash technician to remove them for you.
6. What do I need to avoid while I have the extensions?
Contrary to what you may know or have heard about eyelash extensions, you will need to avoid products that ARE oil-free. They have an ingredient called Glycol in them and that will break down the glue and ruin the extensions. You will want to avoid excessive rubbing of the eyes
7. What if I don't want extensions but want to grow my natural lashes?
We have the perfect product for you! You will want to use our Babe Lash serum to grow and strengthen your natural lashes. We recommend you use Babe Lash twice daily for a month and then once daily until the bottle is finished. You will notice a dramatic difference in your natural lashes with this. We also recommend this serum to clients who have the extensions on to keep their lashes healthy and happy.