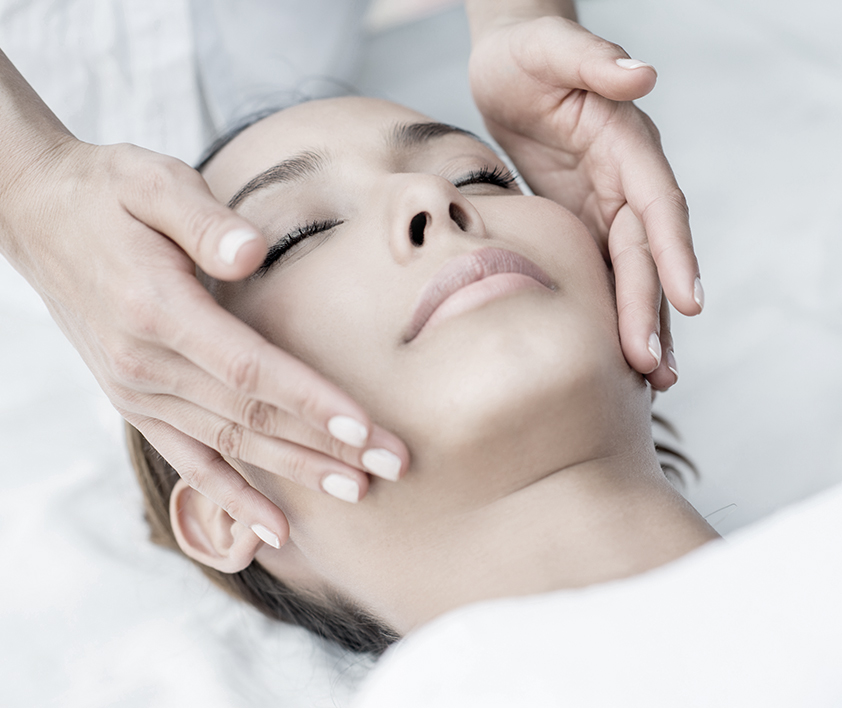 Facials
Cleanse, exfoliate, and nourish your skin with Capello's rejuvenating facials. Our licensed estheticians will nurture your skin with products and services specifically tailored to meet your skin care needs. Our estheticians use Yon-ka products in the treatment rooms and are highly trained in each service we offer by the educators of Yon-ka USA. Yon-ka is a French skin care line, designed in 1954, for face, body and sun, for men and women, imagined and developed by a family driven by a passion for botanicals. The discoverers and creators of a unique beauty secret with unparalleled powers: an exclusive and treasured formula combining 5 essential oils with extraordinary synergetic properties. "Yon-Ka Quintessence", is the DNA of their brand
Le Grand Classique Facial
One of our most elaborate and complete facials leaving you with clean, perfectly balanced skin and a radiant complexion. Customized and recommended at any age, centering on YonKa's exclusive deep cleansing regimen, carried out with the utmost care in the oxygenating atmosphere of the 5 Quintessence  75 min. $96
Alpha Vital Facial
Restore smoothness and youth with the intensely hydrating action of controlled fruit acids.  The epidermis is greatly regenerated,  cellular renewal is intensified, the complexion is cleared, and wrinkles and fine lines vanish.  75 min. $106
Optimizer Facial
Lift effect facial
Battles the effects of aging with the use of essences, peels and collagen. Your skin will be firmed, toned and visibly "lifted."  With our optimizer lifting masque, your skin is left looking radiant, supple and more youthful!  75 min. $106
Vital-Elastine Facial
An expert anti-aging treatment for all skin types that have soft or deep wrinkles.  The skin is smoothed, radiant, and visibly younger.  75 min.  $98
Le Lumiere Facial
A powerful brightening and illuminating treatment using glycolic acid and pharmaceutical grade vitamin C  for those concerned with dull, uneven, scarred, and discolored skin.
Le Lumiere 60 min $96  |  Le Petit Lumiere 30 min $71
Ultimate Rejuvenation Facial
A problematic skin treatment
Immediate results for those who are experiencing problems from aging, acne, scarring and sun damage. Includes our microdermabrasion with "diamond tone," light steam and our customized soothing and  replenishing mask.  90 min. $156
Main Street location only
Excellence Code Facial
An exceptional anti-aging facial for mature skin to rejuvenate a dull complexion. Includes a deep exfoliation with a stimulating anti-aging facial massage. Enjoy an exclusive bio cellulose mask to conclude the treatment.  90 min. $121
Escale Beauté
YonKa Mini Facial
A facial that incorporates lavender, geranium, cypress, rosemary and thyme essential oils to promote rejuvenation and stimulation while replenishing the skin to reveal a soft, delicate soothed complexion.  35 min. $68
Microdermabrasion
A skin-freshening technique that helps to repair facial skin from sun damage and the effects of aging. The use of gentle abrasion "Diamond Tone" with suction to remove the dead outer layer of skin.
As with other skin rejuvenation techniques, more than one treatment may be needed to reduce or remove fine wrinkles and unwanted pigmentation. Single Session  $131
Main Street location only
Hydralessence Facial
The perfect facial for rough, dehydrated skin. Restore skin suppleness with 2 different masks containing seaweed and fruit extracts. Hand treatment also included to exfoliate and soften the skin. 70 min. $125
Back Facial
Deep cleansing and exfoliating.  50 min. $103
Save 10% on YONKA products purchased at time of facial